Product Description
Rich color and stretch cotton softness to start your look off right. Its versatile fit is perfect for layering.
Ribbed deep V-neck
Tagless
Short sleeves
Cotton/Spandex
Machine wash
Imported
---
Shipping and Returns
We ship anywhere in the US and to over 55 international destinations.
Free Standard Shipping on orders $125+ placed online at Express.com for U.S. or Canada.
Simple Returns. In store or online. Up to 90 days. Get the full details on Shipping & Returns.
stretch cotton deep v-neck tee
28
28
QUALITY CASUAL OR UNDERSHIRT
THE QUALITY OF TH IS SHIRT IS SUPERB AND BY THE FEEL OF THE FABRIC YOU KNOW IT WILL LAST. I HAVE BEEN BUYING THESE SHIRTS SINCE THEY FIRST WERE AVAILABLE AND I STILL HAVE A BLACK ONE THAT I HAVE BEEN WEARING FOR YEARS NOW. IT HAS GRADUATED TO A GYM SHIRT NOW, BUT IT HAS GIVEN ME SO MUCH UTILITY AND VERSATILE USE OVER THE YEARS, GREAT BUY!
July 16, 2015
Best T-Shirt
This is the best under shirt or casual t-shirt I have ever owned.
April 1, 2015
Not great
I got one of these in black and it fits great but I just bought one in a different color and it's not a great shirt. Note that these things shrink a full size after one wash. Also the neck on the white one I just bought is considerably bigger and wrinkled up like crazy after the first wash as well. So now I have a shirt that's too tight and wears sloppily around the neck.
March 30, 2015
Great shirt overall
I use this shirt as an undershirt for work and then once I get off, I go straight to the gym and this shirt works great as a workout shirt as well. Bought one of each color. Just like the 1MX shirts, these have spandex in them for that stretchy feel which is great. Can't go wrong when buying these. More colors should be made! Express has a bunch of colors for V Necks but they are not the Deep V. Get them while you can!
February 19, 2015
The Perfect Under Shirt
These are the BEST under shirts! The stretch cotten is amazing and even after several washes still stands up amazing! I use them for work or go out in! Can never find the deep v in store so when I see them online I stock up!
January 5, 2015
Related Products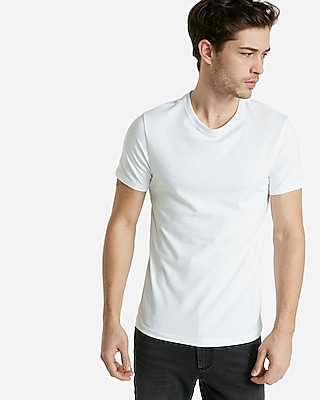 Crew neck|Short sleeves|Tagless|Cotton/Spandex|Machine washable|Imported| ...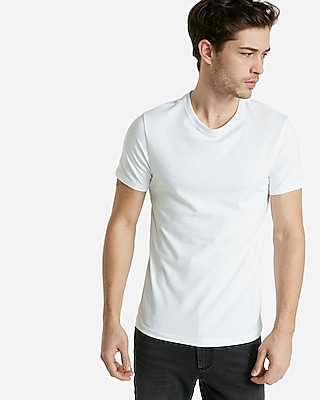 stretch cotton crew neck tee
Description:
Crew neck|Short sleeves|Tagless|Cotton/Spandex|Machine washable|Imported|