No matter how much one loves fashion, getting dressed can still be a challenge—day after day, occasion after occasion. What if you were told one single piece could ease the hassle of outfit selection? One single piece could make all the other pieces in your closet work better. One single piece you could wear to work and on the weekends, with your blue jeans or your best dress. Enter: the bodysuit.
One needn't worry about how to tuck, style, cuff or knot a bodysuit. It's a one-and-done look that still manages to be versatile depending on the occasion (and your ambition). Ahead, a handful of the most pressing bodysuit questions with our best answers. Bodysuit season begins…now.

Excellent question! At its most simple, a bodysuit is a one-piece garment made with a stretchy fabric that fastens at the crotch. Bodysuits can have long or short sleeves, scoop or v necks, sequins or buttons. Above all, a bodysuit offers sculpting and compression, and can be worn as a standalone or layered piece.
How should a
bodysuit fit?
A bodysuit is tight, no matter how you dice it. But you'll want to make sure yours is comfortable and not constrictive, and that it's long enough through the torso, with no tugging or pulling. The ideal bodysuit has a close-to-the-body fit that allows you to feel sculpted in all the right ways, but able to move readily, too.
What goes under a
bodysuit?
The easiest answer is nothing at all. The bodysuits in our Body Contour collection are all fabricated from a high-compression polyester spandex blend that offers a maximum smoothing and sculpting effect. They also have a double layer of fabric in the front for additional coverage. That being said, those with a larger bust might feel more comfortable with a bra underneath. You'll want to opt for a seamless option that fits well, with no digging or ripples. If you're wearing an off-the-shoulder or scoop back bodysuit, adhesive bras can add a bit of shape and support.

As for other undergarments, that's entirely up to you. Some prefer the comfort and security of underwear; it's also appropriate to skip the extra layer, too.
What goes over a bodysuit?
That's the beauty of a bodysuit. They can work with pretty much anything you own, with a few exceptions. Because a bodysuit is fitted, you'll want to play with proportion, meaning a bodysuit pairs best with pieces that are flowy, loose, silky or billowy—not skintight. Sure, you could go full catwoman with leggings and a bodysuit, especially if you top it with a bulky jacket or your favorite boyfriend blazer.
A few of our favorite options: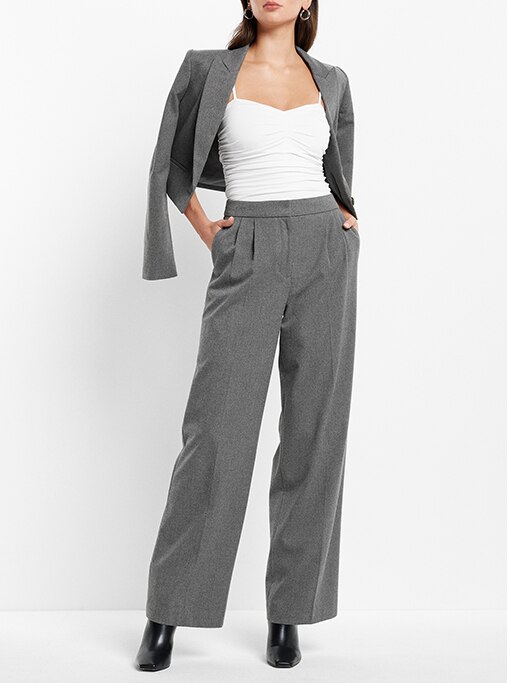 A bodysuit—especially a scoop or high neck tank, or short sleeve version—works as an excellent base layer under even the most tailored suit. What's especially nice about sleeveless bodysuits is that you don't have to worry about the sleeves bunching under your jacket. And because a bodysuit snaps for a secure closure, your shirt will stay put if you sit or move, too.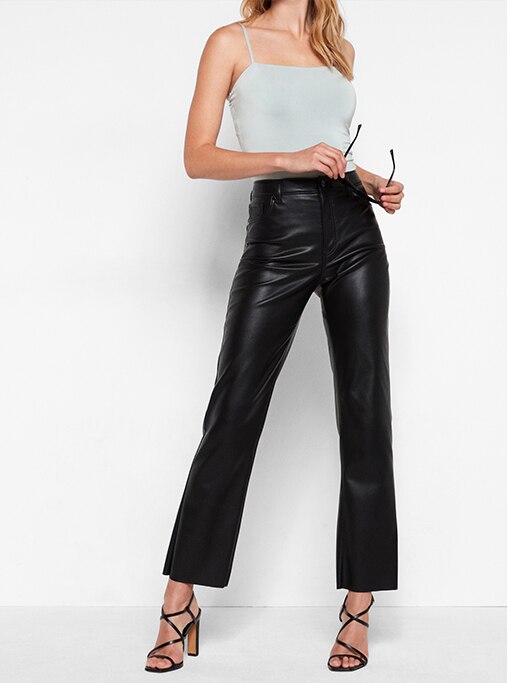 Leather pants are a statement piece, which means if you wear them with an overly ruffled blouse or embellished sweater, it can look bulky. Conversely, the smooth precision of a bodysuit makes a sharp textural contrast.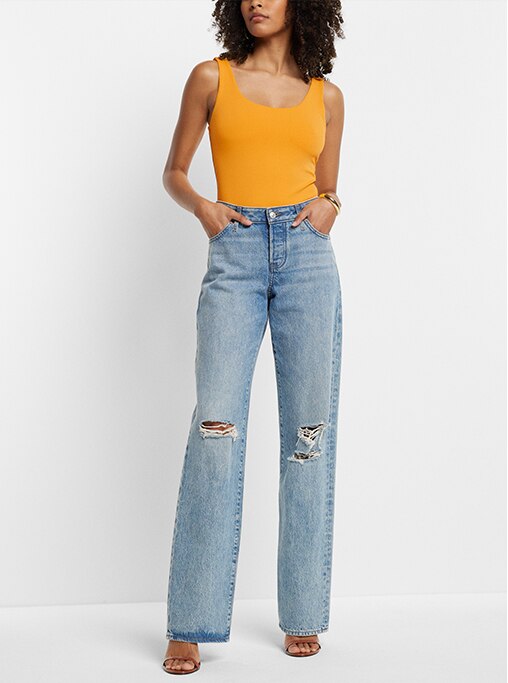 The right bodysuit can be worn as a standalone piece with your favorite wide leg jeans, making a cool statement on proportions. You'll want to try a high-waisted jean; to draw more attention to your waist, add a belt or weave a scarf through your belt loops. A long necklace or jangly bracelets can finish the '70s throwback.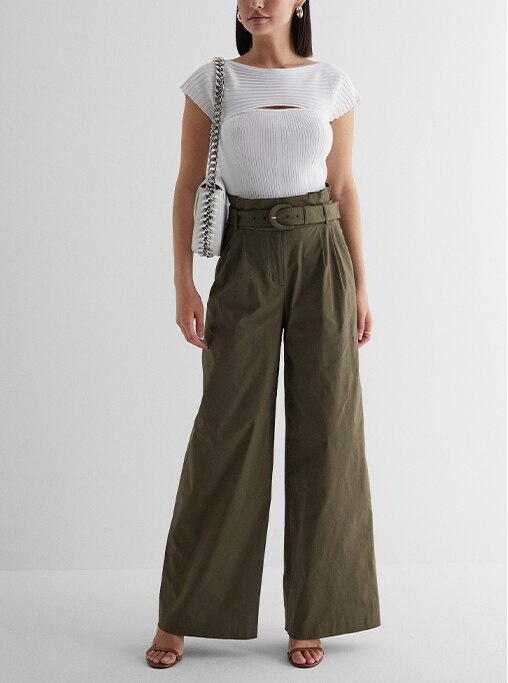 If you're looking to play it safe, by all means pair your best dress pants—like our Editor Pant—with a plain ole button-down. But work in a bodysuit and you've modernized your look while still staying entirely work-appropriate. Another option? Try a bodysuit version of your favorite blouse or button-down shirt.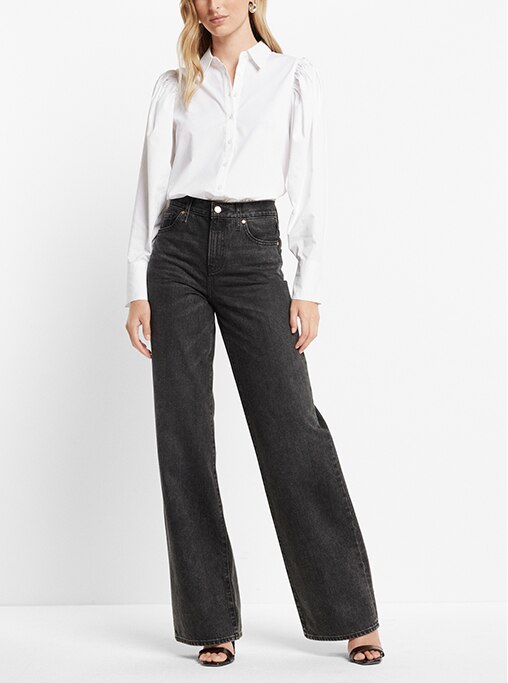 Want the best of both worlds? Try a Portofino bodysuit—tailored shirt up top, sleek bodysuit down below. Never worry about having to keep your shirt tucked in just right ever again. Plus, it eliminates any bulkiness of having to tuck the tail of the shirt into your pants or skirt. Problem solved.
A long-sleeve bodysuit is a great warm-up option to extend the wearability of short or sleeveless summer dresses.
A sleeveless bodysuit can work as shapewear under tighter, more figure-flattering dresses.