In this remote work era, cozy is (and has been) the name of the game. Alongside coordinated sets, court sneakers and relaxed jeans, oversized sweaters are an essential style staple for looking cute and feeling comfortable. There's something about a big slouchy knit and artfully tousled bun that gives off cool French girl energy. Plus, there are endless ways to style oversized sweaters so that you can wear them year after year—we'll dive into some of those ahead.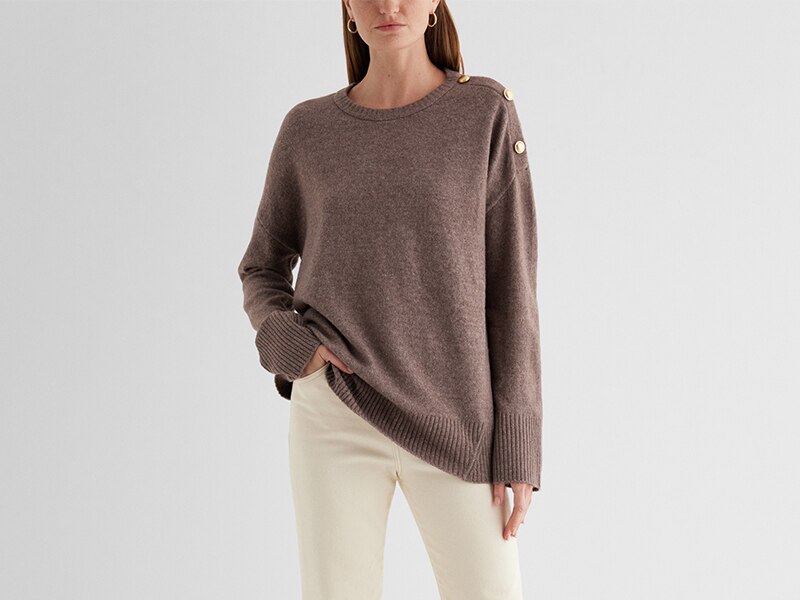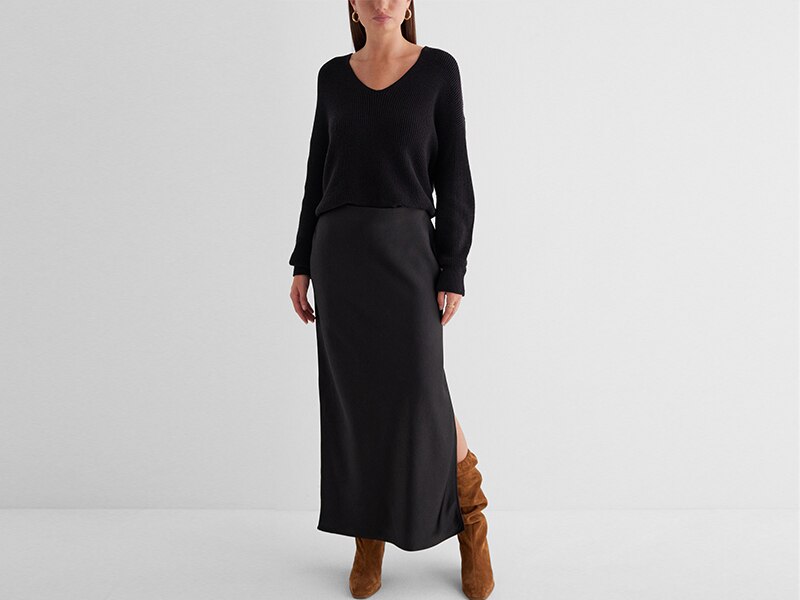 What do you wear with an oversized sweater?

Play with proportions by balancing out the volume
of the sweater with a short fitted skirt. Not only is
this a great transitional solve, but it can be easily
dressed up or down depending on moment.
Running out to the grocery store? Just add a
baseball cap and chunky sneakers. Meeting your
boss for coffee? Layer a collared shirt underneath
the sweater, add your favorite gold necklace stack
and finish the look with knee-high boots.

Relaxed-but-polished trousers are having a moment
and we can't get enough. French tuck your sweater
into a pair of Stylist or Editor Pants to add some
shape, and finish with a pair of low-top white
sneakers to keep things fresh. We also love teaming
a ribbed turtleneck with wide leg pants for maximum impact.

Mixing different textures is an easy fall/winter dressing
win, especially when you're pairing the softness of a
chunky knit with the smooth sleekness of faux leather.
Start with a fuzzy crew neck sweater and then choose
your base—a faux leather mini skirt, midi skirt or flare
pants are all great options. Or, tuck your oversized
sweater into dark wash jeans, and top the look with a
faux leather jacket.

There's something about a cozy sweater layered over
a flowy dress that feels so effortlessly cool, and it's
versatile enough to style multiple ways. If you're going
more grungy, throw on a chunky black belt at the
waist and don't forget your combat boots. If boho is
more your vibe, choose a tiered maxi dress and
accessorize with statement earrings and tall suede boots.

If the all-baggy-everything trend is calling your name, try
pairing an oversized sweater with roomy straight or
pleated wide leg jeans. Complete the look with loafers
and a structured handbag to exude major old-money
energy.