Jeans just may be the most essential piece in any guy's wardrobe, equally at home with a hoodie and sneakers, or dressed up alongside a sharp button-down and blazer. The right jeans are rugged and wearable, easy to move with and impossible to get wrong. And that versatility is the very reason most men have way too many pairs—and arguably none of the right ones. Ahead, our men's guide to building a denim wardrobe. The right fits, the right washes. Everything you need and nothing you don't, once and for all. Hear that? That's your overstuffed drawers breathing a sigh of relief.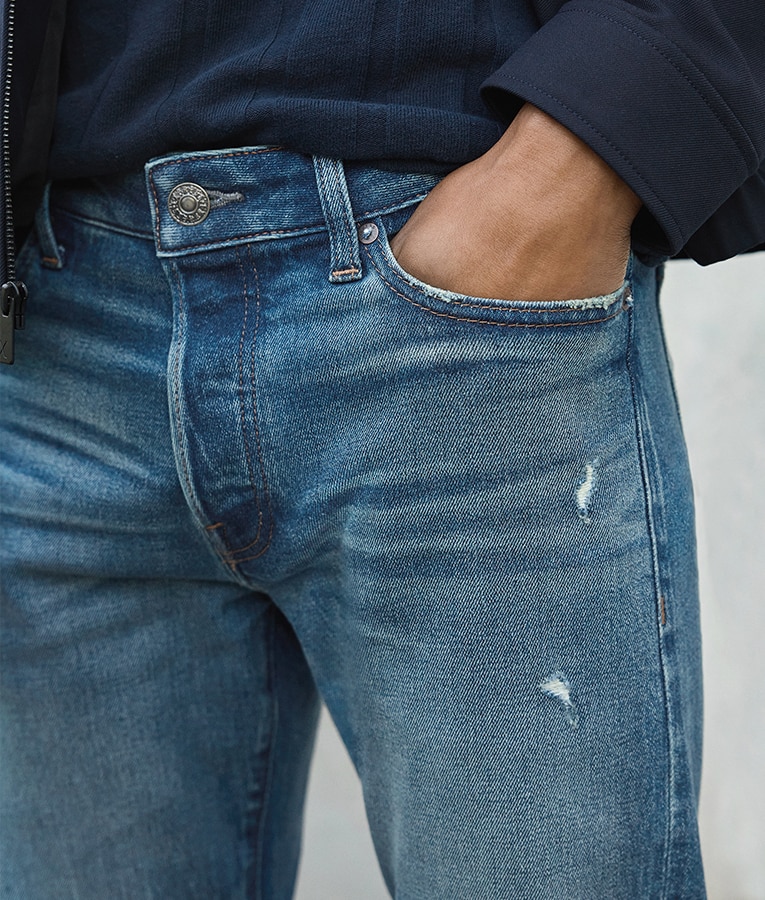 Straight to skinny, skinny to relaxed, relaxed to tapered and back again. Denim shapes change season to season (and we'll get to that later), but no matter the styles you choose, they should fit perfectly. But how can one tell if their jeans fit? Jeans shouldn't fall below your hips, and they should be snug enough to stay up. Look for awaistband that rests on or above your hip bone and below your naval,with enough room that you can comfortably slide two fingers underit with no pinching. If you'd like to add a belt, by all means go ahead. But none of your jeans should require a belt to stay hoisted up.Likewise, if your jeans leave red welts on your sides after a day of wear, go up a size in the waist.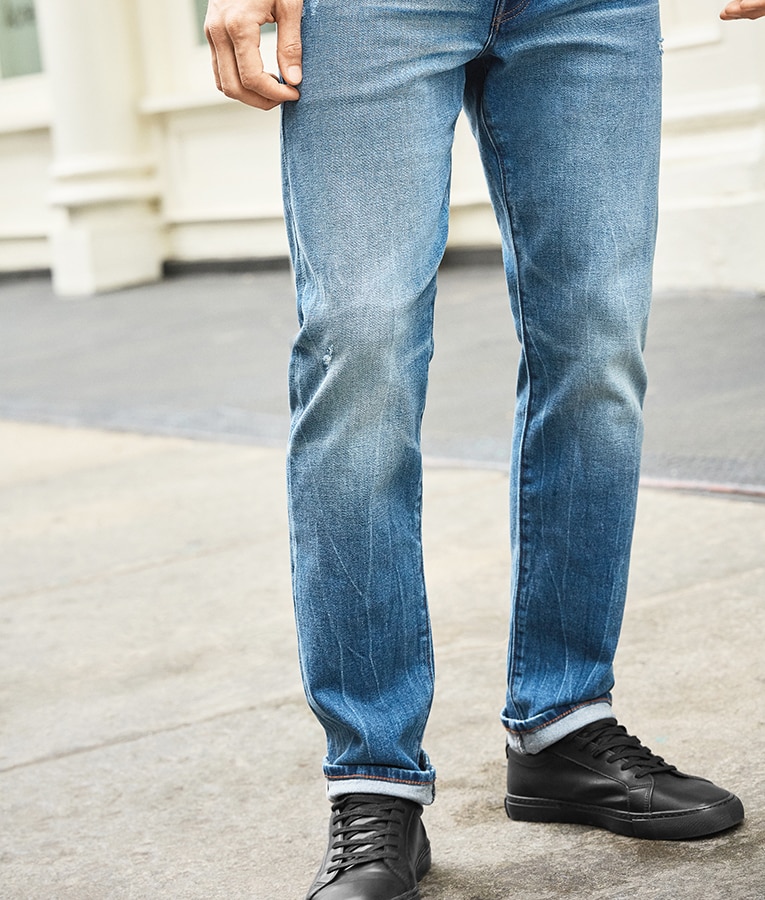 The ideal length depends a bit on fit—your roomiest straight leg jeans won't fit the same as your coolest skinny denim—but in general, you'll know your jeans are the right length if they come down to the top of your foot, with enough extra fabric for a full break, but without hems that are dragging at your heels. (A "break" is the crease of denim that forms just above your shoe when you're standing upright.) If your jeans have a bunch of breaks, that's a telltale sign they're too long. And if your socks or ankles are showing, it's likely you could use a longer inseam length.
Most men will be served with a few pairs of jeans that fit a few different ways, ranging in comfort and formality.The styles ahead serve as the basic jeans every guy should own, with the caveat that every dude is different.Your jeans should be versatile, easy-to-wear and comfortable on your body, full stop.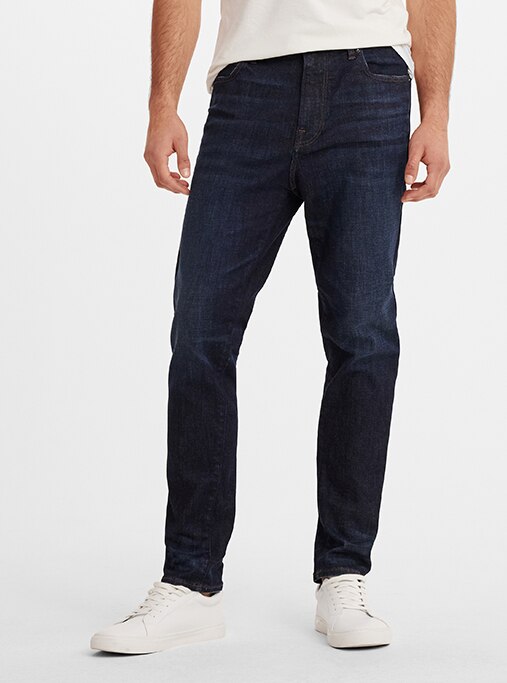 A skinny jean has a streamlined cut that's equal parts lean and cool. Ours are relaxed in the thigh, giving them a comfortable, movable fit, but skinny from the knee to the ankle.Because of the sleek front, skinny jeans pair well when your shirt is untucked, be it abutton-up, polo, or your favorite tee.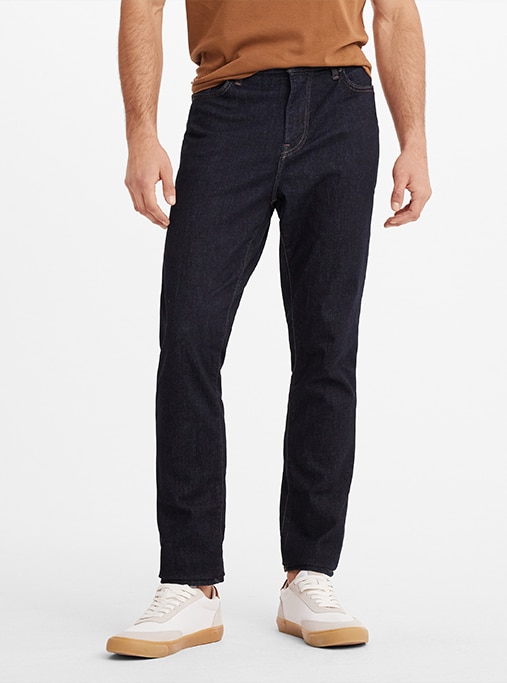 A slim fit jean—that is, one that doesn't bulge or sag in any unsightly ways, with a flat front and a sharp, rather tailored appeal—will probably be your most reached-for denim.Not quite as sleek as a skinny jean, slim fit denim is basic in the best way. Our traditional slim fit jeans are streamlined both through the thigh and leg. But we've also got a couple ofoptions: A slim straight, with a looser fit from the knee down, and our athletic slim fit, that's more relaxed in the thigh.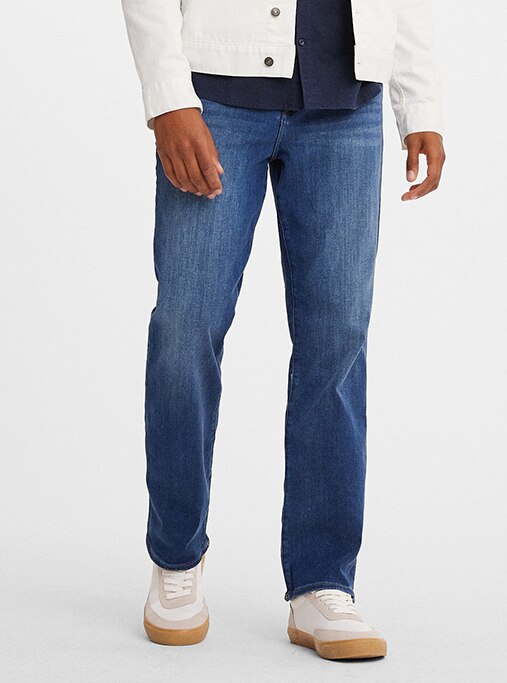 There's something retro and nostalgic abouta bootcut jean. Ours are roomy through the thigh and leg, with a slightly flared opening at the bottom hem, made to fit, well, over boots.With sneakers or dress shoes, cuff the hem once for a finished look.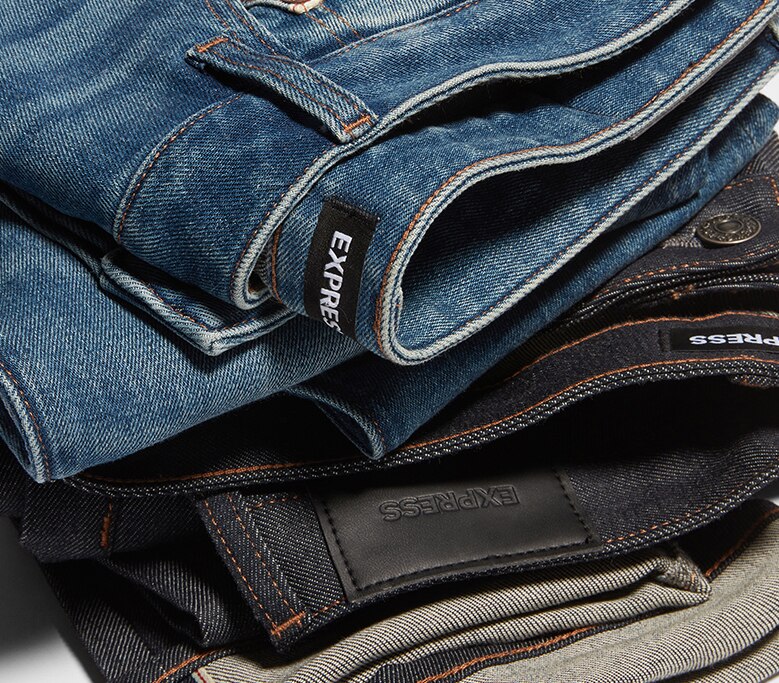 Once you've nailed your fit, it's time to consider the color of your denim. In general, the darker your denim, the more formal the jean can lean. While you likely wouldn't wear inky indigo blues on your wedding day, they'd look excellent at work or playing back-up to your favorite collared shirt and blazer. Conversely, lighter jeans have a low-key vibe, excellent for weekends or WFH days. Ditto for other signs-of-wear details, like whiskering, fading or rips,although depending on the formality of your workplace or hangout spots, you may be able to push the dress code a bit.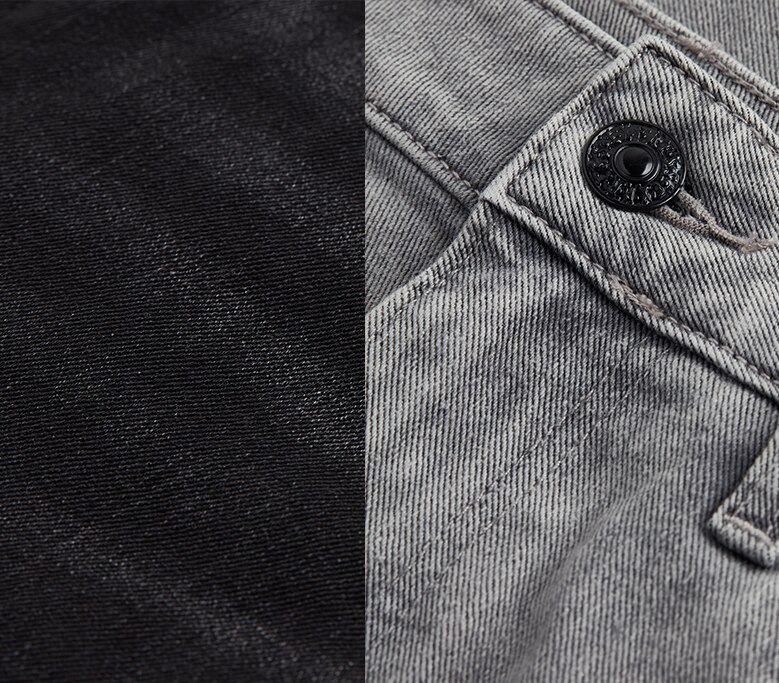 The case for black and gray.
It used to be that you couldn't beat the versatility of a solid blue denim. And that's still true. But in the last decade, black and gray denim have become almost as indispensable. In the right cut, black jeans have an edgy coolness that pairs well with white sneakers and hoodies. A gray jean is a contemporary classic, looking sharp with a t-shirt and black sweater.